Did you know that you can use your swim spa six to nine months longer than a traditional pool? Without heated water, most pools only really have a three-month window when the water is at a good swimming temperature.
No wonder so many people are trying to decide between above-ground vs. in-ground swim spas in Denver. With a swim spa, your backyard will be the visiting spot of all your friends.
Read more to see if you should purchase an above-ground or in-ground swim spa.
Above Ground vs. In-ground Swim Spas in Denver
If you've looked into getting a backyard pool or a hot tub, and you couldn't choose one or the other, it is time to look into getting a swim spa.
A swim spa is a combination of a pool and a hot tub. For example, your swim spa allows you the freedom of exercising combined with the massaging and warm effects of a spa. You won't be able to use your swimming pool nearly as much as a swim spa.
By combining these two luxuries, you have the option of using this pool spa all year round in snowy Denver.
Above Ground Swim Spa

If you choose to go with an above ground swim spa, this will only take an afternoon to install. You will need a flat outdoor space, but the installation is minimal.
Your spa will need to be plugged into electricity to run. These spas are great for 120 or 220-volt plugs. No special wiring needs to be added or installed to your home.
You have many more options on the size, color, water features, and shape of your swim spas with above ground options compared to backyard pools. This is mostly because the manufacturer can easily drop the swim spa anywhere without making ground adjustments, which decreases the installation cost.
Finally, you are less likely to fall into an above-ground pool than an in-ground pool. You would have to climb into the swim spa.
In-Ground Swim Spa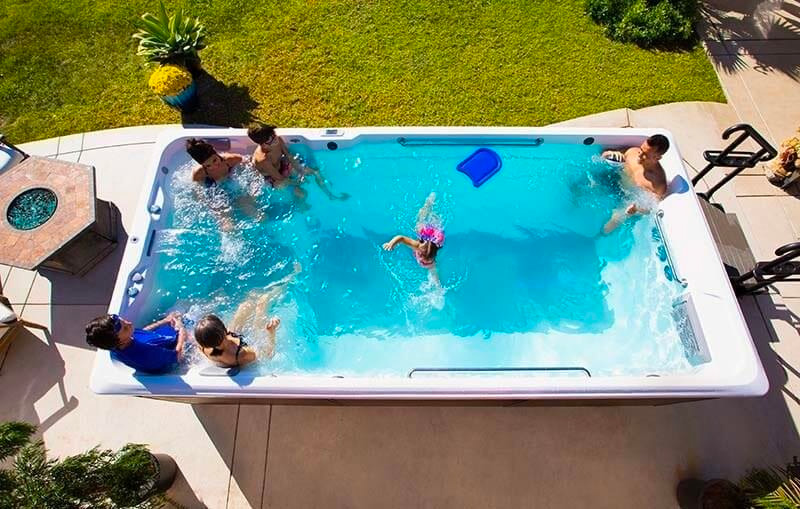 If you're looking to spice up your outdoor living space, placing an in-ground swim spa is a great option. One benefit is how the landscape and the ground spa blend together well.
Compared to above ground swim spas, in-ground swim spas can further increase the value of your home. This can be a huge selling point when placing your home on the market.
In comparing an in-ground swim spa to an in-ground pool, you don't need to purchase a deck or platform for your spa. However, these things are required when considering pool designs.
Yes, an in-ground spa will take a little longer to install, but the finished product is worth waiting for. You'll have your own hot tub swim spa.
Personal Benefits
No matter which spa you choose to go with, the benefits of having one are sure to increase your health and happiness.
A swim spa is known to keep you active. Especially in a place like Denver, where it can be harder to go outside to bike or hike during the winter months. A spa allows you to continue exercising all year long.
If you're in the mood to relax, you can sit in your spa without exercising while still feeling all the benefits of a massage or hot tub.
It's up to you whether you choose an above ground vs. in-ground spa in Denver, but the options are endless.
Order Your Swim Spa
You don't need a pool and a hot tub; you need a swim spa to cover both of your needs.
By learning about above ground vs. inground spas in Denver, you're close to unlocking extreme comfort. We can help you take that final step; we offer Colorado's largest selection and the highest quality spas.
If you're interested in learning more about adding a swim spa to your backyard, be sure to contact us today for a free in-home consultation. ​