Do you find yourself stressed out, tense, and losing your temper with your loved ones at the end of the day? Don't you just wish you had a place where you could unwind and get a break?
A swim spa offers such a respite for the weary parent. It also gives you a place where your family can spend quality time together. You can even use the spa for exercise.
Keep reading to learn about how a swim spa can benefit you in all seasons of life.
Benefits of Swim Spas
A spa has a myriad of health benefits. Sitting in a spa will cause your muscles to relax, leading to better sleep and overall healthier life. A soak in the spa can easily become one essential step in your bedtime routine.
Plus, if you're a parent, you'll be a better parent for that daily soak in the spa. You'll be more patient, and ultimately you'll foster healthier kids and a healthier family by taking care of yourself.
The health benefits seem pretty obvious. Here are a few other benefits that make a dual swim spa worth the money. ​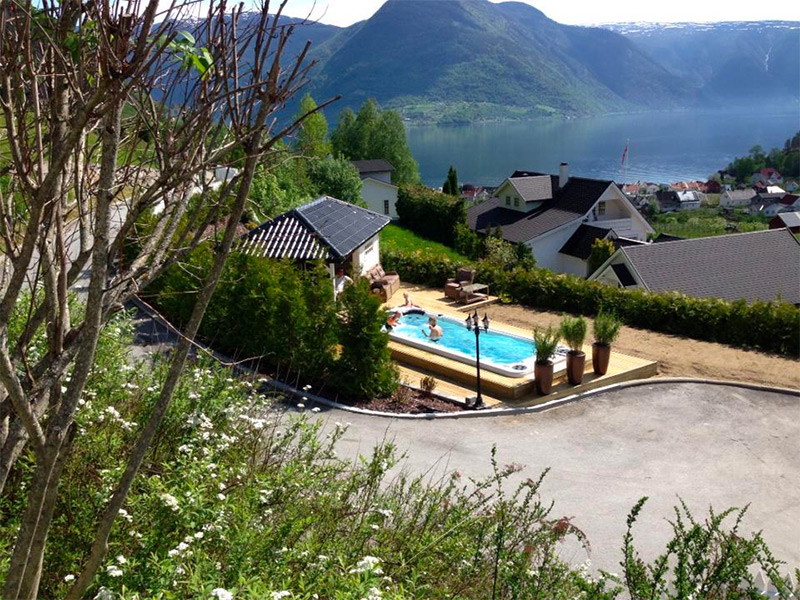 Creates Ambiance
A spa becomes the crown jewel of your backyard when you design the yard correctly. What better way to take a break than to sit in your bubbling, hot spa.
You can use the seasons as your guide and create some fun themes for your spa. For example, when the heat of Denver's July sets in, you can plan a weekend pool party complete with outdoor grilling and karaoke. Set up lights and a canopy for some ambiance.
When the chill of fall begins to set in, you can still plan on a spa night with hot cocoa or hot toddies in the spa. And as the snow begins to gently fall in December, perfect for the holiday season, you can slip out to the spa and relish the steamy retreat.
When you invite guests to share the spa, you'll have the pleasure of seeing their stress melt away with yours.
Unwinds You From Parenthood
It's hard to imagine "family time" with a spa when your children are small. But there's no better time to get a spa than when you're dealing with the throes of parenting small children. Who needs to unwind more than the mom or dad who has chased a toddler all day or stayed up with an infant all night?
You're ultimately a better parent when you aren't stressed out, and a swim spa will give you a place to let that stress go.
Builds Family Time
As your kids grow and mature, the best times you have with them involve conversation. What better place to unwind after the day than in the family spa.
The family spa of the twenty-first century likens itself to the dinner table of the 1950s. When you spend time together as a family, your kids build their vocabulary as well. These conversations matter.
You can hear about everyone's day all while enjoying the health benefits of an aqua massage in warm water. You can laugh together when your big kid shares their stories and have deep, meaningful conversations while sitting in the spa. ​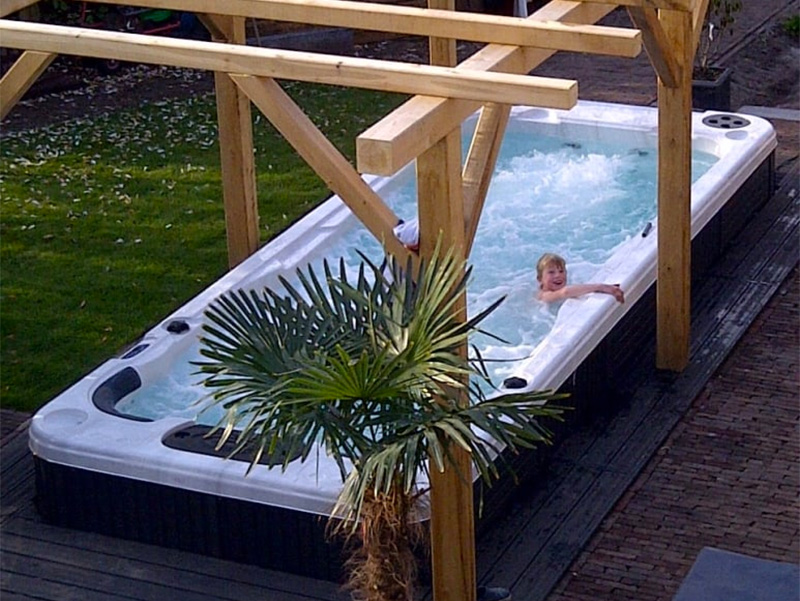 Brings Family Back
As your children leave home and begin lives of their own, the spa will remain a great memory to them. They'll want to continue to come back home to have those same great conversations in the backyard spa.
Plus, as they have their own children, they'll want to bring those grandchildren back to your home because you're the grandparents with the cool spa. You can continue to build your backyard around this crown jewel that gives you a place to rest your weary bones and knead out the stress in your muscles.
Things to Do In a Swim Spa
Swim spas do not all look alike, and as a result, your swim spa options dictate the activities you can do in a spa. No longer do you have to settle for the standard square tub with corner seats. Here are some fun things you can do in a swim spa thanks to the newest spa options.
Workout
The newest swim spas are not just hot tubs where you soak and unwind. They have jet propulsion that creates an endless pool for swimming laps.
So while you can sit in the spa and unwind at night, you can work up a good lather swimming endless laps in the morning. The spas are designed to fit a person's body lengthwise so you can get in, turn on the jets, and start your laps.
Furthermore, you can do aqua aerobics in the swim spa, working your upper body and lower body while having the benefit of buoyancy. You won't beat up your joints as you burn calories.
If you've been looking at a swimming pool for exercise benefits but cringe at the cost, look at a swim spa. They take up less room and cost less than a pool but give you the cardiovascular benefits of a pool. 
Teach Kids to Swim
A swim spa is a perfect place to introduce small children to the water. It's a big step up from a baby pool in the backyard, contaminated with bugs and dirt.
You have the benefit of walls nearby while you have the depth of a shallow in-ground pool. You can stand right there and give your child the necessary support while you teach them to swim in a smaller, deep pool.
By the time you head off to the lake or a bigger pool, your child will be comfortable with the water and ready to take on a bigger challenge. ​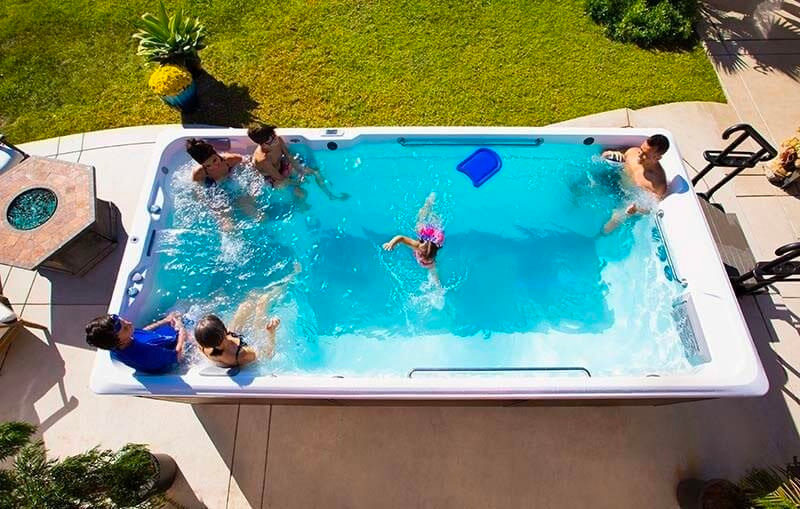 Play Games With Kids
A swim spa offers a great respite in the summer when kids need a new activity. You can enjoy fun games like "baby shark" or "fishy fishy" with kids all in the safety and privacy of your backyard.
Plus, as you play games, your kids will feel more comfortable with the water. Both you and your kids will get a little exercise in the process as well.
Soak, Make Memories, Repeat
A spa will give you the retreat you need to unwind or make memories with your family. You can do both.
If you look for swim spa dealers near me, you'll find the best spas in the Denver area. We have the largest selection of swim spas. No matter your season of life, you can find what you want in the gallery of spas we have.
Contact us today. We'd love to help you find the spa for your family today.
​