You have made the commitment to health and wellness by purchasing a swim spa. You're enjoying its recreational benefits as well as all of the health benefits.
You swim daily, and you relax in the spa. It's become your go-to for all things stress relieving. But what happens when your swim spa breaks down?
If you want to maximize the life of your swim spa, you need to understand proper swim spa maintenance. Keep reading to learn everything you need to know about how to take good care of your swim spa.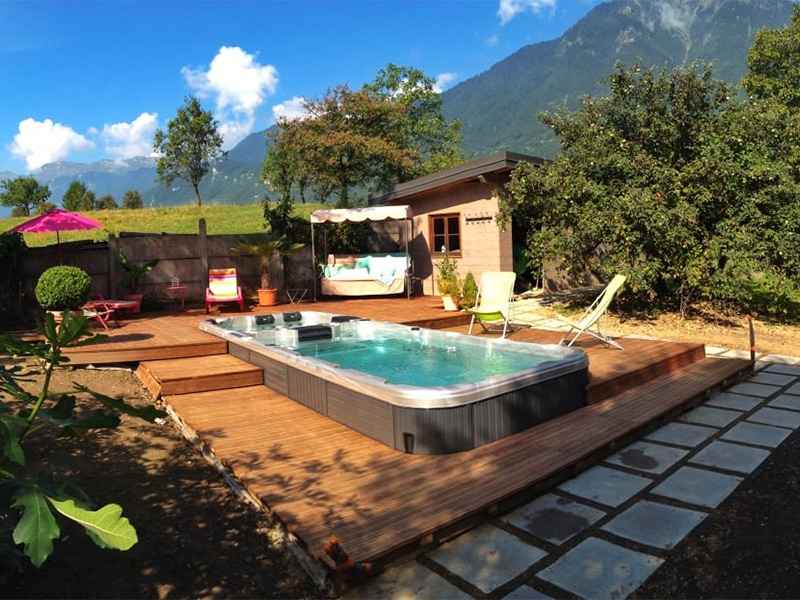 Changing Water
As you use your swim spa, you may begin to wonder: do I need to drain this spa? Do I need to change out my water?
The bigger your swim spa, the less you need to change it. In fact, you should only have to change your water every six months. You might be able to leave the water even longer than six months if you treat the water right or if you're not using your swim spa frequently.
In the seasons when you do not take a dip every day, you can wait longer to switch water.
Ultimately, you'll know it's time to change the water when you measure the dissolved solids. TDS or total dissolved solids is a measurement of all the solids dissolved in your swim water. You will have chemicals, minerals, and even contaminants from swimmers.
The TDS should be between 500 and 2,000 parts per million. You can test the TDS levels using a digital meter or with TDS strips. You may also take a sample of your spa water to an experienced local swim spa dealer who will test it for you.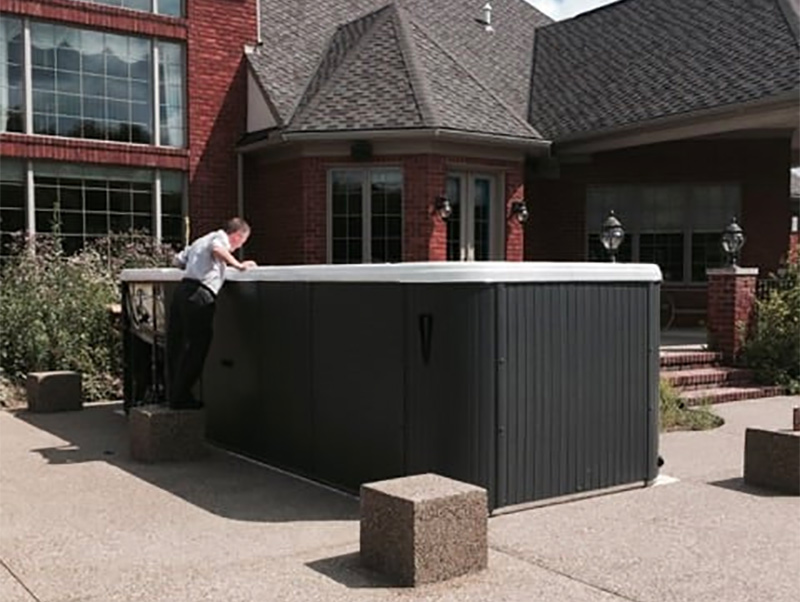 Even without testing your water, though, you can tell that its quality is going downhill. Watch out for these signs:
Algae growth, even with sanitizer
Dull, cloudy, or colored water
Difficulty maintaining water balance
Skin and eye irritation
These signs indicate a problem with your water and the need to drain your tub and start over.
If you do not have time to drain the tub completely, draining the tub even partially and refreshing the reservoir with fresh water can lower TDS levels adequately.
Whether you're using a swim spa for physical therapy, exercise, or recreation, taking time to drain your spa will result in a much better swim spa experience.
Care For Your Water
You can limit the number of times you need to replace your water by caring well for your water. The following basic steps will help you maintain your swim spa.
Rinse your skin off before you jump in your swim spa
Avoid wearing oils and lotions before you get in the swim spa
Air dry your swimsuit instead of drying it with a dryer sheet
Look for cloudy water
Watch out for water where you can feel film and buildup on the acrylic of the pool
Keep the proper chemicals in stock
Cover your swim spa when you're not using it
Each of these steps will protect the water in your swim spa and allow you to use it longer without having to drain and refill the spa.
Use the Right Chemicals
The right chemicals also contribute to proper swim spa maintenance. Chemicals can help keep your water clean and safe to use.
In particular, you want to keep chlorinating granules, oxidizer shock, pH Up, and pH Down in your cupboards. You should also have a filter cleaner on hand.
Chlorinating granules will sanitize the water, while filter cleaner will remove the material from your filter. Oxidizer shock frees up the chlorine, and the pH down and pH up lower and raise pH as needed.
If you're unsure how to use these chemicals, consult your swim spa manual or visit a local swim spa store like Denver Swim Spas. You can also outsource your water maintenance, having a pool maintenance tech visit the spa regularly to test and treat the water.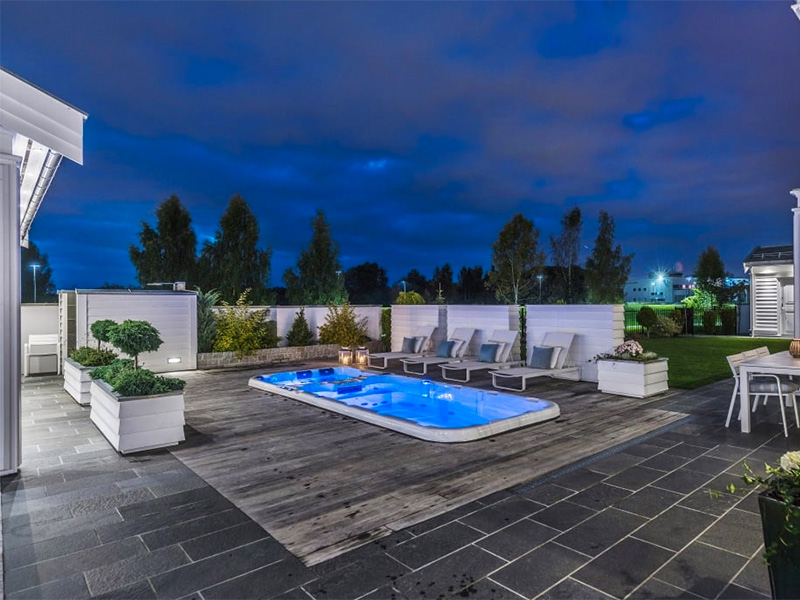 Swim Spa Temperature
When people are shopping for a swim spa pool, they often wonder, Are swim spas hot or cold? They are both!
The right temperature will also help maintain your spa. If you use your spa for exercise or physical therapy, keep the temperature between 80 and 90 degrees Fahrenheit. If you happen to live in a cooler climate, keep the temperature in the upper end, and if you live in a warm climate, keep the temperature in the lower end. 
If you're using your swim spa as a hot tub, keep the temperature between 100 and 104 degrees Fahrenheit.
If you have the luxury of a dual-zone swim spa, you can keep each section heated appropriately. You can have a relaxation side where the water is warmer and an exercise side where the water is cooler.
Heating your swim spa can take 20 to 40 hours. So if you're just now refilling your swim spa, give the spa up to four days to warm up to the temperature you want.
Conduct Swim Spa Maintenance Regularly
Basic swim spa maintenance will keep your spa running smoothly and allow you to enjoy it to its fullest extent. By maintaining a swimming space in Denver, you will give yourself the perfect retreat after a stressful day.
Are you looking for a swim spa? Contact us today. We sell premium swim spas in Denver, equipped with a water purification system that keeps your water clear and reduces the need for excessive maintenance.
Our spas use a combination of 100 percent filtration, UV purification, and ozone sanitation to create the ultimate in clean, clear water. We have the spa you need for recreational and exercise purposes.
Give us a call today or check out our online gallery of spas.
​