For centuries, people have been flocking to public pools for the immense amount of health benefits that owning a swim spa offers. Even today, we all agree on the fact that swimming is a low-cost, high-intensity workout that uses almost every muscle in our body.
While the joy of swimming at a public pool with friends and family members is great, many people still find it inconvenient.
What is a swim spa?
Just as the name suggests, a swim spa is a combination of a swimming pool and a spa. They can be installed both indoors and outdoors and provide users with several fitness benefits including:
Heated-water therapy
Water aerobics
Fun exercise activities for kids
Wondering which swim spa brand to choose?
As the leading and ONLY wholesale supplier of swim spas in Colorado, we understand that buying the right one is not an easy task. The modern Denver homeowner has access to several styles, colors, sizes, and additional features to choose from.
As with any other major purchase, the best way to get a swim spa for yourself is to follow a checklist. We have developed one specifically for our Denver customers.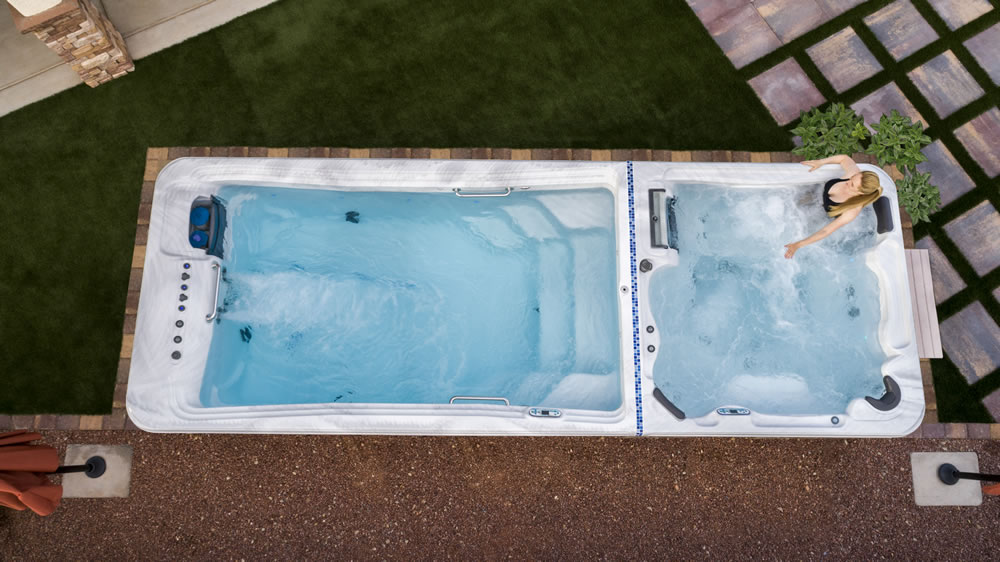 Unique Features of Swim Spas
Soaking your body in a swim spa every once in a while can be extremely beneficial for your health. Here are some of the most unique features of swim spas:
Bio-LokTM Microbe Shield
The use of Bio-LokTM technology protects users from harmful microbes. The non-porous nature of Bio-LokTM sheets keeps microbes from penetrating the surface of your swim spa. This feature makes it easy for users to clean and maintain their swim spas regularly.
Moreover, as the name suggests, Bio-LokTM is free from added chemicals and does not include any pesticides or additives. You can enjoy a fresh, hygienic swim spa experience without having to worry about bacteria invading your space.
Current Lift Technology
Imagine doing a workout in your newly purchased swim spa. As you move around, you feel the difference in the current which is in perfect synchronization with your movements. How is this possible?
Our mesmerizing swim spas, including the Paramount Swim Spa, Resistance Swim Spa, Tide Swim Spa, and Tide Pro Swim Spa come with the latest current lift technology. This feature allows for the adjustment of the water current based on your workout intensity.
Rotational Jets
Ever wanted to have a great water massage or practice water aerobics while at home? Our swim spas come with rotating jets that are strategically positioned to increase their performance. These jets create a water current within the swim spa by driving air into the pool and moving the water from the front to the back.
Each swim spa comes with a different number of jets depending on its application. For instance, the Pure Collection of our swim spas offer:
Core Swim Spas – 34 jets
Origin Swim Spas – 60 jets
The difference in the number of jets causes each one to have a different performance level.
Top Quality Spa Shells
Traditional swim spas are made with weak shells and might suffer from damage during delivery, installation, and use.
However, our swim spas come with shell lips which offer high functionality and add to the overall appearance. These firm, strong shell lips allow for the addition of backlighting in certain swim spas, making the overall design unique and modern while being highly functional and safe at the same time.
Water Purification System
We're committed to ensuring our valued customers' health and safety while using our spas and hot tubs. This is why we've included a multi-faceted water purification system in our unique swim spas.
Want to keep your swim spa sanitized and well-maintained?
Choose our elegant swim spas which come with the Synergy Ultra-Pure water purification system. This system provides a unique combination of 100% filtration, ozone sanitation, and UV purification.
Aesthetic Designs
Being the sole wholesalers of swim spas in Colorado requires us to be innovative and creative to gain our customers' approval. Our swim spas are not only practical and functional, but they are also beautifully styled and finished.
We've designed spas in accordance with our customers' discerningly elegant and modern tastes.
For instance, the Innovate Swim Spa has a cubicle layout, geometric lines, and subtle backlighting all of which add to its progressive and unique design. The swim spa has been designed in such a manner that its spectacular looks in no way hinder practical performance.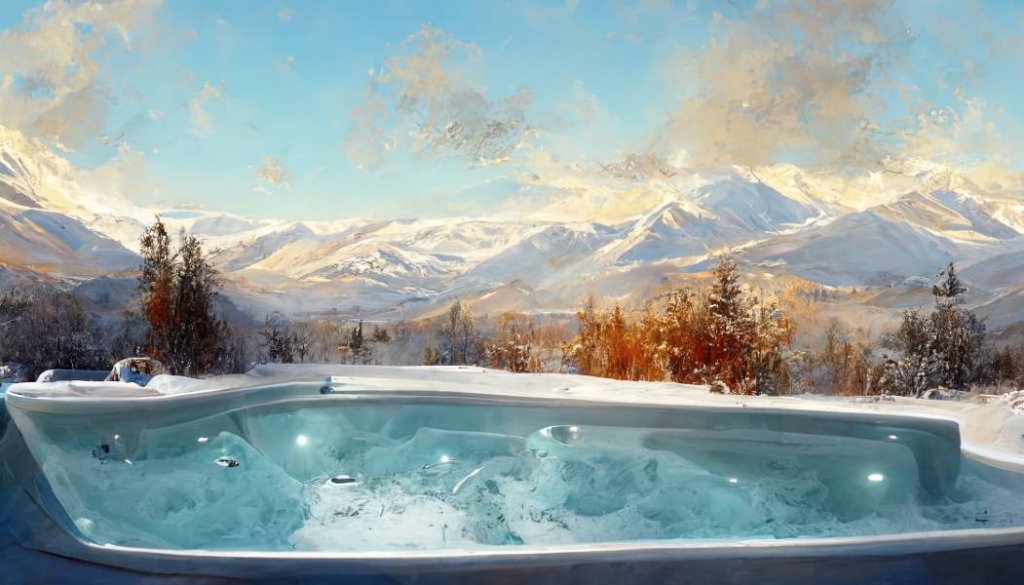 FREE DOWNLOAD: Denver Best Swim Spa Exercise Guide
Multi-seasonal Usage
Want to use your cherished swim spa throughout the whole year?
No worries! A swim spa is a great thing to use all year long!
You can enjoy lower temperatures for exercise or entertainment in the summers. If you want to enjoy a relaxing massage in the cold Colorado winters, the Dual Source Heating along with several massage options will be perfect for you.
While installing, kindly follow the instructions given in the users' manual to protect your swim spa from harsh climatic conditions.
Wide Range of Uses
For sport and fitness exercise-related swim spas, we provide sixteen different swim spa types to choose from. With the inclusion of deep, wide bucket seats in these swim spas, customers are given the opportunity to make use of the spa's various therapy functions.
Some of these swim spas also come with Swim Assist Tethers, Fitness Seats, Aqua Rolling Massage, Wave Therapy Zone, and Waterfall Massage, along with many other additional features that make the customer's experience more memorable and beneficial.
Wanting to enjoy the swim spa with friends? We have got you covered with our varying capacities allowing you to fit more people into your amazing spa and share the relaxation experience.
Additionally, if you are looking for an opportunity to enjoy spa time with your significant other then you can use one of our swim spas to meet your needs for entertainment and leisure.
Wondering how you can spend time with your kids in the water while at home? Shop for our new swim spas which offer a clean, safe customer experience allowing you to safely have fun with your kids in the water within the comfort of your home.
Top Swim Spa Performance
Swim spas have been used for many different benefits across the world. Some use them for luxurious enjoyment and leisure while others use them for training and fitness.
We consider each customer's desires when carefully crafting swim spas that cater to the needs of our individual customers. Increasing the spa's overall performance through various features is what we aim to do.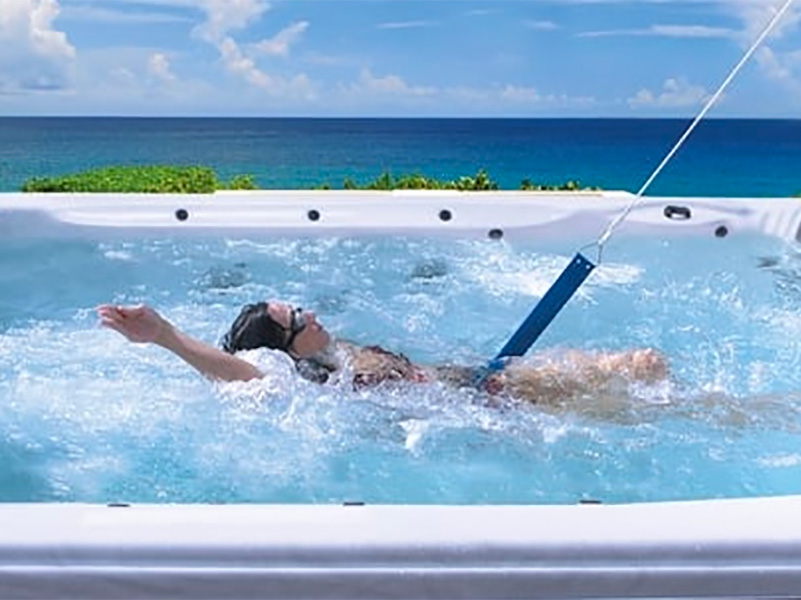 Best Innovation for Hydrotherapy
Our swim spas are functionally designed to provide hydrotherapy benefits to our customers who wish to enhance their quality of life.
Unlike traditional swim spas, our products are fully equipped with the latest technology which aids in the adjustment of the water current according to the customer's requirements.
For instance, the Current Lift Technology, found in most of our sport and fitness swim spa collections, exerts the current based on the user's movement. For people who are suffering from certain health conditions or who wish to relax while using our swim spas, Current Lift Technology adjusts the water current within the spa to match the user's preference.
The Paramount Swim Spa has separate spa sections allowing users to swim and relax in varying temperatures. This allows you to first carry out a workout in the swim sections at a lower temperature, then finish by soothing your tired muscles in the hot water section.
How Much do Swim Spas Cost in Denver, Colorado?
Swim spas come in a variety of sizes, shapes, styles, and of course, prices. The average price for a swim spa in Denver, Colorado is around $6,000. At our site, the most economically priced is the Genesis swim spa, starting at $4450.
However, we want to make sure you enjoy all the benefits of your amazing new swim spa. That's why we have introduced financing for as low as just $48.50 a month! To avail yourself of this feature, send us a request so that one of our experts can get back to you.
What Do You Need to Consider Before Buying a Swim Spa?
Buying a swim spa is going to be a big investment decision of your life, hence it should be conducted with as few hitches as possible.
Where are you going to situate your swim spa? Indoors or outdoors? Here are some considerations to take into account when positioning your swim spa:
Swim spas are electric-powered and hence need to be installed at a place with a nearby wall socket.
Access to fresh water is important as you shall be emptying and refilling your spa several times a year, depending upon how often you use it.
It should not be installed in a tightly confined space.
Consider the following if you're placing your swim spa outdoors:
Concrete or wooden slabs as thick as 4 inches work best.
Install an electrical outlet at least 10 feet away from the spa.
Consider the following if you are installing it indoors:
All electrical appliances should be at least 10 feet away from the spa, including any ceiling fans.
Ensure proper ventilation in the room for air and water.
The area should have a spill- and water-resistant floor so that you don't accidentally slip when getting out of the tub soaked in water.
Comfort and Design of Denver Swim Spas
Check if the seats are ergonomically designed to fit your body's natural curves. We always allow our customers to climb in and test out the seats before settling on one.
Our wet test is a promising way for us to showcase the benefits and features of our swim spas. Consider the following questions too:
How ergonomically are the seats designed to suit different types of bodies?
Can the spa accommodate multiple bathers?
Are there safety steps to enter the swim spa?
Maintenance of Swim Spas
While buying one, it is important to ask the retailer how easy or difficult it is to maintain a swim spa. If it cannot be maintained easily, chances are you may not even enjoy using it. Ask the following questions:
Are the filters easily accessible?
How long does it take to filter out the water completely?
How easy it is to disinfect after usage?
Does it come with an in-line chemical feeder?
Does the ozone system use injections?
Cost of Swim Spa Installation in Denver, Colorado
The most economically priced swim spa at Swim Spas Denver is priced at around $4450. However, that's only the cost of the spa and will rise once labor and installation costs have been factored in.
Installation costs can range anywhere between $1,000 to $2,000 depending upon whether the work is done above or below the ground.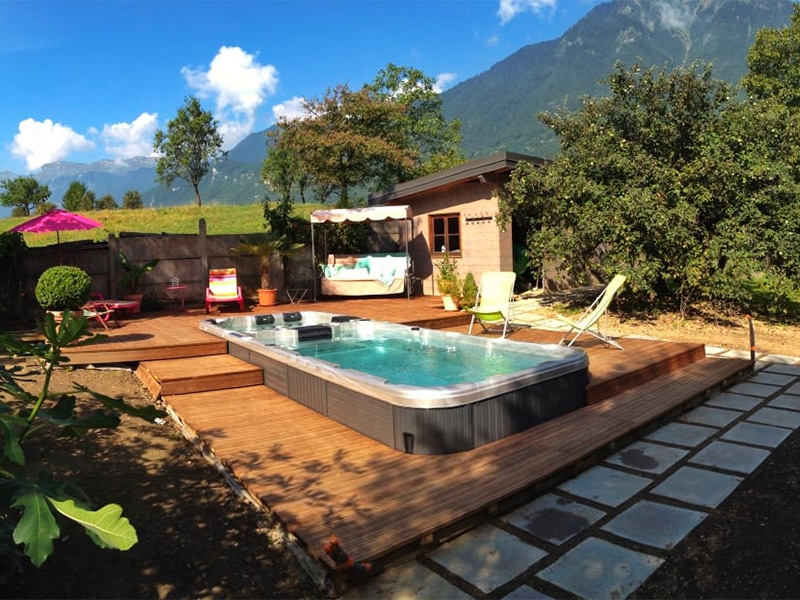 Steps to a Satisfaction Guaranteed Purchase
Finally, decided to buy a swim spa. Here is all you need to do before purchasing one:
Connect with us by talking to our Denver Swim Spa professionals who are fully qualified to answer all your questions.
Discover the various uses of a dual swim spa and learn about their important features that will add to your swim spa experience.
Plan by choosing the best swim spa to match your budget.
Enjoy a delightful customer experience with our timely delivery, effective installation, and excellent service on your purchase of one of our innovative swim spas.
Also, read swim spa common questions to ensure your questions are answered.
Finest Customer Service
We strive to provide all our potential and existing customers with the best service possible. We offer them all the opportunity to converse with professionals in the industry. We've been in the game for over 20 years and would be happy to answer any questions you may have.
Want to see a swim spa before you purchase one? Head over to our showroom located in Denver, Colorado to get a hands-on experience before you purchase one of our fine swim spas. For additional information relating to the individual benefits, installation process, product details, and pricing, please visit the product pages.