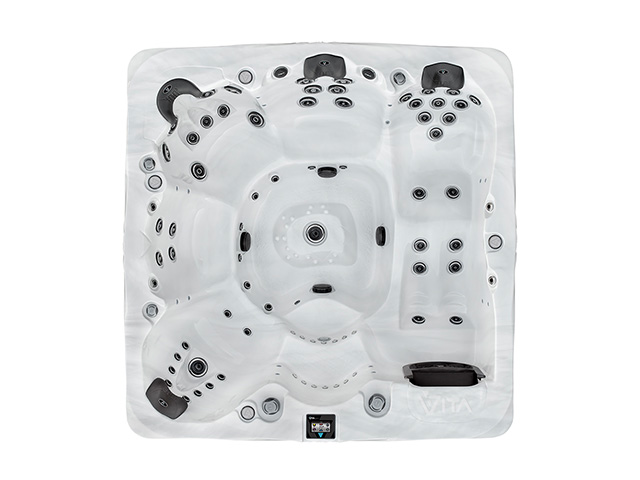 Key Benefits
Equipped with 3 pumps and 61 jets, the Vivre has all the necessary components to revitalize you after a long day. The lounger seat offers a full body massage while another seat encapsulates you with the soft tissue massage to invigorate the top layer of your skin. With the smart placement of the jet to the clever mold cutout of one corner seat, it feels like a an effleurage massage. Another corner seat offers the spectacular hip massages that aren't seen often. The foot Reflexology Dome has purposely placed nodules to get the tension out of your feet while you graze them over the large jet placed perfectly in the middle. The Vivre has much more to offer but with the features already mentioned, there's no need to say more.
Standard VIVRE Features Include:
61 Halo Pro-Loc™ Stainless Steel Jets
Seats up to 6
Illuminated Contoured Pillow
4 Aurora Cascade Water Feature
Illuminated Coaster and Spa Control
Pump 1: 3.0Hp/6.0bHp, 240V, 2Sp
Pump 2: 3.0Hp/6.0bHp, 240V, 2Sp
Pump 3: 3.0Hp/6.0bHp, 240V, 1Sp
Attribute Set
Insulation System : Northern Exposure System
Substructure : Steel Frame
Up to 6 People
61 Jets
446 Gallons
92" x 92" x 38"