You've decided that it's time to give your backyard – and yourself – a healthy, relaxing boost. Now it's decision time. Hot tub or swim spa? Or maybe a combination spa hot tub? Hot tubs are popular – with almost 5.8 million in the US – and so are spas. Both offer a high-powered jetting system, and both provide essential health benefits.
But while hot tubs and swim spas have a lot in common, a few key features set them apart. In this article, we're going to take a look at the differences – and similarities. Then, when you're ready to buy a hot tub or swim spa, you can make an informed decision.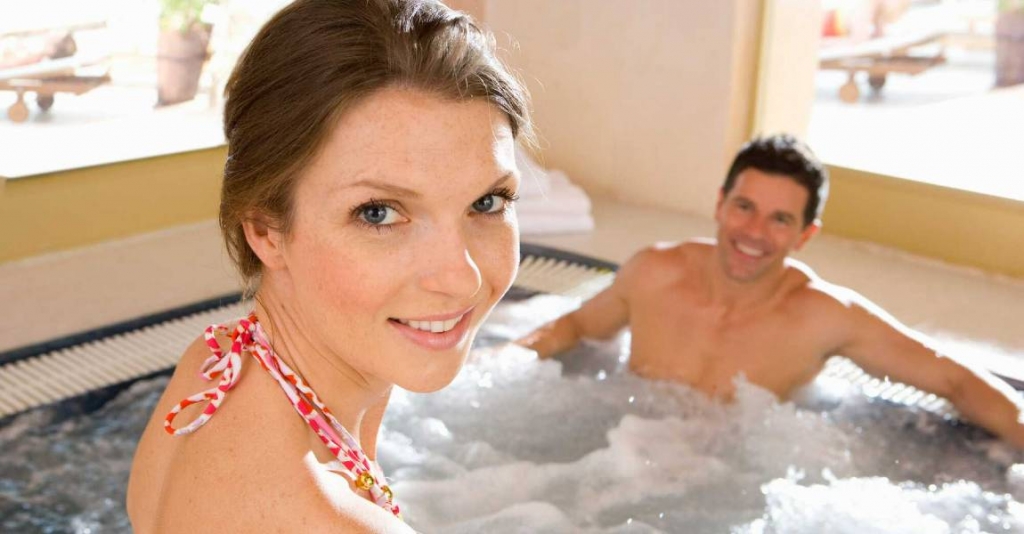 What's a Hot Tub?
It is a spa designed primarily for year-round relaxation, entertainment, and water therapy. Their compact size makes them perfect for decks, patios, and small backyards. And with sizes ranging from two or three-person hot tubs all the way up to models seating seven or eight, there's a size for your needs.
Superb Construction and Design
When you're ready to buy a hot tub, forget the old cedar tubs from the '60s and '70s. Today's hot tubs are made in one piece with seamless construction. As a result, durability and ease of maintenance are vastly improved. Designed with triple insulation, the best hot tubs are also more energy-efficient than ever before.
Hot Tub Options
Comfortable, molded bucket seats, loungers, and benches are positioned to take advantage of the hot tub's high-powered jetting system. Up to 70 jet nozzles make hot tubs like this one from Swim Spas Denver perfect for de-stressing or easing those aching muscles.
Different nozzle configurations at each seating position and programmable controls give users practically unlimited options. Most owners keep the water temperature in the 100-degree range. However, for safety, the maximum high temperature is set at 104 degrees, as recommended by medical experts.
Health Benefits of Hot Tubs
Another major benefit of hot tubs is the ability to take advantage of the therapeutic benefits of hydrotherapy and water massage. Researchers have shown that the combination of hot water and massaging jets in hot tubs provides many health benefits, including:
Stress relief
Improvements in circulation
More restful sleep
A reduction in the adverse effects of asthma and allergies
Reductions in joint and muscle pain and swelling
Positive impact on depression and mood
While the health benefits are considerable, don't lose sight of the fact that they are just plain great for entertaining and giving the family a way to have fun 12 months a year!​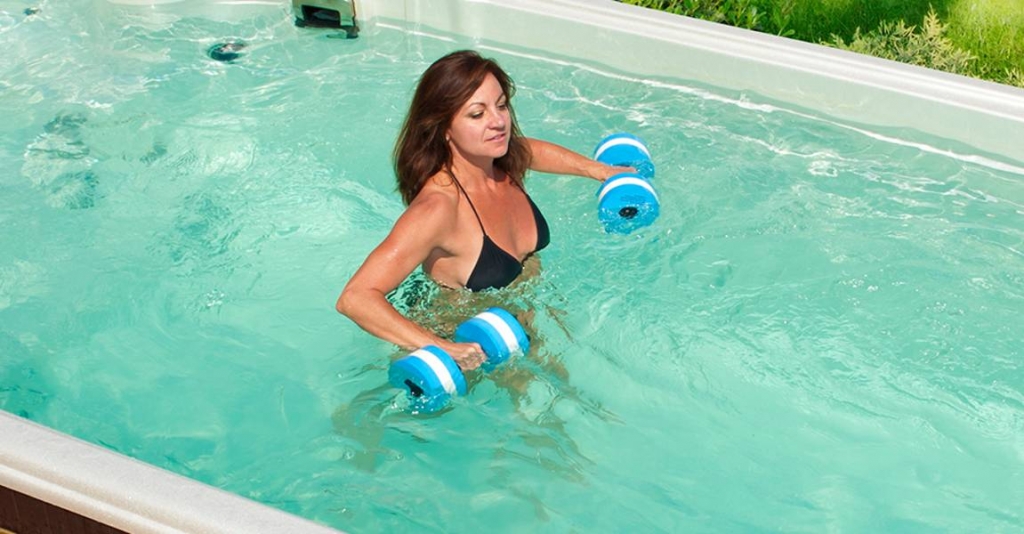 What's a Swim Spa?
While hot tubs are designed primarily for entertaining and relaxing, swim spas put exercising at the top of the list. Swim tubs position high-power water jets at one end of the spa. That creates a current that you can swim against continuously.
Because the current strength is user-controlled, the intensity of the workout can be adjusted to match any conditioning goals or training regimens. In addition, swim spas' adjustable water flow lets you match your individual skill and fitness level for a perfect workout. And of course, you can swim as long as you want – zero limits!
Swim Spa Sizes
Swim spas tend to be larger – and heavier – than hot tubs, but with a wide range of sizes available, there's a swim spa suitable for almost any home. And like hot tubs, swim spas can be installed on patios, reinforced decks, or even indoors. However, unlike a swimming pool, swim spas only require three feet of clearance around the perimeter.
Available sizes range from right around 12 feet long up to almost 24 feet for a swim spa with a hot tub at one end. Because they are larger, swim spas cost more – but they cost a lot less than a swimming pool!
Health Benefits of Swim Spas
There's a reason swimming is the 4th most popular form of exercise in the US. Just two and a half hours of swimming per week can significantly reduce the risk of chronic disease. Whether you're a competitive swimmer who wants to be able to train year-round at home or someone who wants better health and fitness, swim spas are a great choice.
Swimming is associated with a range of positive benefits, including:
Increased endurance
Improved heart and cardiovascular health
Muscle strength and flexibility gains
Reductions in chronic joint pain
Stress reduction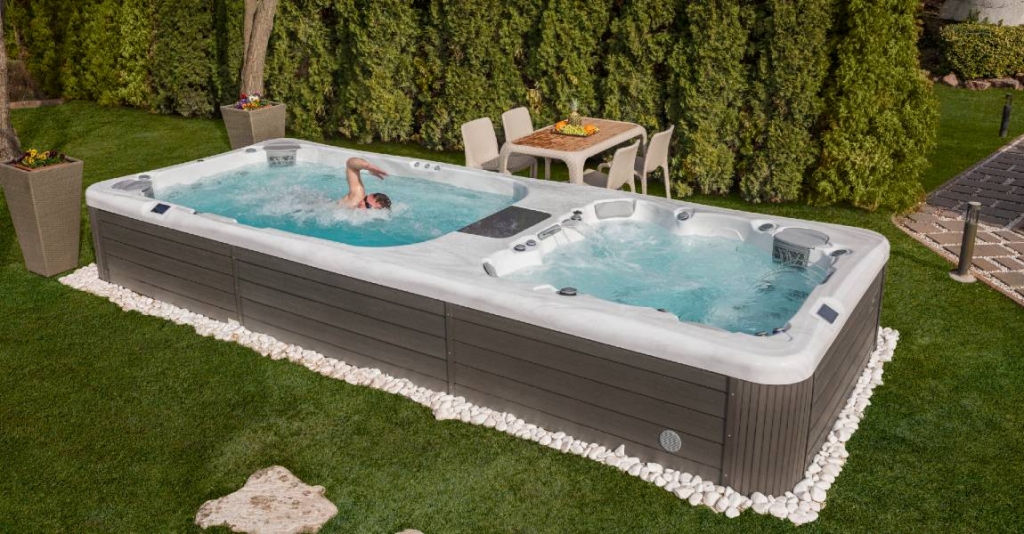 A Spa Hot Tub: The Best of Both Worlds
Can't choose between a hot tub or a swim spa? You can buy a hot tub and swim spa combination for the ultimate in water-based home exercise and entertainment. In Denver, a hot tub with a swim spa is a perfect choice. You'll have the perfect place to entertain friends, relax with family, and get that cardio workout!
Unlike the limited swimming pool season – 100 days or so – a swim spa with a hot tub can be used year-round. A New Year's Eve celebration with friends? No problem. Your daily workout before heading out to the office? Your spa combo tub is ready when you are.
Spa hot tub models come in a variety of sizes and seating options. Models with separate spa areas let one person swim while other people are relaxing in the spa.
Hot Tub, Spa, or Combination?
Now that you know more about hot tubs, swim spas, and a combination spa hot tub, it's time to take the next step. If your number one goal is relaxation and entertainment with all the benefits of hydrotherapy, then a hot tub is the perfect solution. But if you're a competitive swimmer or just want all the great health benefits swimming offers, then a swim spa may be the answer.
Want the best of both worlds? Relaxation, entertainment, and exercise all in one? Then a swim spa with a separate hot tub is the way to go. Still can't decide? One call to Swim Spas Denver is all it takes. Trust their experts to help you make the right decision!
​