hroughout the centuries, submerging the body in both warm and cold water spas has been used to cure physical ailments and accelerate recovery from injuries. Both chronic and acute conditions can be significantly improved through the use of a swim spa hot tub.
Conditions like Chronic pain, Neuromuscular conditions, Parkinson's Disease fibromyalgia, Osteoarthritis, and Rheumatoid arthritis respond positively to hydrotherapy.
Over a matter of weeks, studies show that pain, limited mobility, and oxidative stress can be reduced through the regular proper use of a swim spa hot tub.
Swim spas can also speed up the elimination of acute pain caused by injuries or overuse. Aquatic exercise performed in the low-impact, supportive environment of a swim spa pool provides relief from the constant impact of walking or running outside the pool.
Increasing healthy blood flow and range of motion, swim spas positively affect injuries ranging from soreness, tightened muscled to longer-term physical therapy needs.​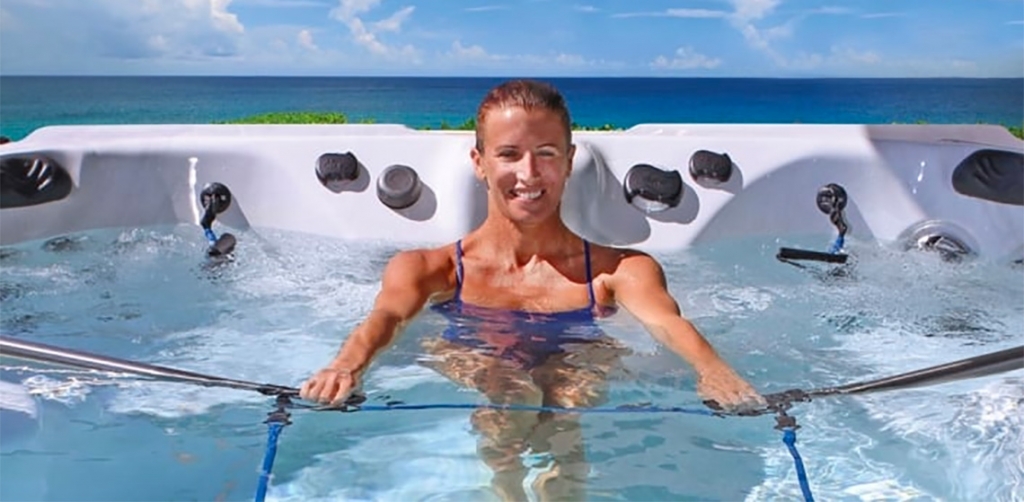 Weight Loss
Studies show that you can lose weight just by soaking in your swim spa pool. Just 30 minutes a day increases circulation, decreases stress, and stimulates muscle groups. All that leads to a thinner you! The powerful combination of passive weight loss benefits and targeted aquatic exercise programs gives you a whole new level of fitness, vitality, and enjoyment of life.
Better Sleep
Insomnia can lead to many health issues due to the lack of sleep. Relaxing in a dual-swim spa before bedtime can help reduces stress, loosen up tight muscles, relieve headaches, stiffness, and joint pain, allowing you to achieve a more relaxed and deeper sleep each night.
Enthusiasts
Being healthy is an important part of life, and a swim spa can help you reach your personal fitness goals. Whether you're a runner, hiker, or just want to stay in shape, swim spa pools allow you to control the level of fitness you want. A wide range of full-body workouts, including running, swimming, resistance training, and yoga, will keep your body toned, tuned, and happy.
Athletes
Swim spas are a perfect option for dedicated athletes. Swim spas offer full-body workouts to get you in shape for the competition and allow you to keep in shape in the off-season. No matter what the weather conditions may be, you can train year-round in your swim spa. If you want to push yourself to be the best athlete you can be, swim spa pools offer a low-impact option with high impact.
Using a swim spa has become increasingly popular for athletes to treat ongoing injuries, and medical conditions. Taking advantage of your swim spa can speed up your recovery and rehabilitation time and improve your quality of life.
Massage Benefits
Experience deep relief from physical and mental stress in a swim spa hot tub. Swim spa pools are designed with specifically placed jets pushing streams of air bubbles against your skin. This dissolves muscle tension and invigorates blood circulation creating a sensuous, full-body reboot leading to better health.
Regular hydrotherapy in a swim spa dissipates the small stresses that accumulate daily. Advanced jet technologies embedded in contoured seating provide endless comfort while decreasing aches and pains.
Equally effective for both chronic and acute pains, swim spas provide deeply therapeutic relief that's both quick and safe. The power and balance of the built-in jets are adjustable, giving you command of the water pressure. Your swim spa hot tub will relieve all the tension in your muscle fibers by targeting the right area with the right pressure.
Basking in the soothing, warm, swirling waters to melt your body and mind make swim spas worth it. Denver Swim Spas' dedicated experts will guide you to make a swim spa pool choice that's right for you.
Physical and Mental Benefits
The most evident physical and mental benefits that come from aqua therapy is the way it helps your physical and psychological state of mind. Working the whole body and mind at once through resistance training across all muscle groups, this is an excellent low-impact cardio alternative to your regular workout routine. Using a swim spa for your daily swimming routine, you could burn between 500 to 700 calories as an average-sized adult swimming for an hour.
​